Postcard News from Courthouse Square
Vol. 16, No.9, Sep 2020
Click Here to return to Postcard News Index Page..previous and current issues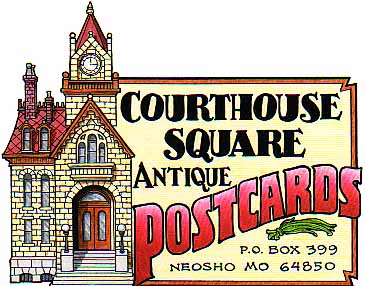 Postcard News From Courthouse Square
Get Out to a Postcard Show....It will do you good!
Click Here to return to Postcard News Index Page, links to previous and current issues
This issue has information on upcoming postcard shows. We hope you find this issue informative
and adding to your interest in postcards and postcard collecting.
Let us know if you have ideas for upcoming articles or contributors.
Your feedback is welcome. Our subscriber membership is over 16,800 and an ad or article can get wide circulation.
Welcome to the 16th Year of Our Newsletter,
Postcard News from Courthouse Square!!
_____
Load Those Postcards in the Car, Come on out to a Show!

It will do you good!
CHECK WITH THE PROMOTER TO MAKE SURE THE SHOW HAS NOT BEEN CANCELED
See DETAILS of 2020-2021 Show Schedules Below!!
More to Come!
+++++++++++++++++++++++
In light of the national health crisis and the closing of many events, canceled as well as postponed, any schedule you may find on line or in print is subject to possible revisions. Since we only advertise our events (that we produce), and those promoters that contact us with their information, we cannot mark a show"canceled " without contact from the promoter. Jim Mehrer's website schedule (which we highly recommend) also requires that the promoter that ran the listing, has to contact him to cancel that listing. Unfortunately there are commercial websites that have no contact with the actual promoters that simply 'pirate' the information from legitimate sites, and post it online for various purposes, so be advised that in those instances of using the commercial 'pirate' sites, you may be at risk of completely wrong or incomplete (or at the least, not the 'latest', show information or changes), as the affected show promoter has no idea the commercial 'pirate' site is using his show info, therefore can't know where or how to update it. In any case, the best policy is to CHECK WITH THE PROMOTER TO MAKE SURE THE SHOW HAS NOT BEEN CANCELED
+++++++++++++++++++++++++++++++++++
++++++++++++++++++++++++++++++++++++++
LET'S ROLL!!!!!
LETTER FROM Jim Taylor:
We Are
BACK IN BUSINESS!! 2020
A SPECIAL THANK YOU TO:
Heritage Event Company, Gail Kinney,
and THANK YOU, New Braunfels TEXAS
CourthouseSquare.net held our NEW August New Braunfels TX Postcard show, Friday, Saturday, and Sunday, August 21,22,23, 2020. It was part of the Heritage Event Company's Summer New Braunfels Antique Show. It went off without a hitch, great attendance and attendees, super vendors. Our postcard portion of the show was a great success. Our postcard dealers included Norm Porter, Tracy Bradford, Susan Nichols, Roger Synnott, Joe Corcoran, Suzy and John Bigelow, Jim Taylor, (our good friend Lee Lanning had broken an arm, we wish him well and we look forward to having him at our new Oct. 2,3, Houston Postcard Show, and Oct. 9,10, Plano(Dallas) show.) We appreciate all the fine comments about the event, and we were more than proud to be able to present it. We met all CDC Guidelines, local city/county guidelines, and had a great time. Our event had Social Distancing, Masks, hand sanitizer, great postcards, and Texas BBQ. What else could we ask for. Onward to the next show. CourthouseSquare, (Jim Taylor) will be attending a new Heritage Event Company Land Run Antique Show in Shawnee OK, Sept 26,27, and will be bringing lots of new inventory, as well as archival supplies. Oklahoma City area high quality antique shows are always fun, and Gail Kinney and Heritage have produced the very best in the area for years. Call or email for details. Jim Taylor 1-417-389-1512 or postcards@courthousesquare.net
We've added a new Fall Houston Texas show...see below!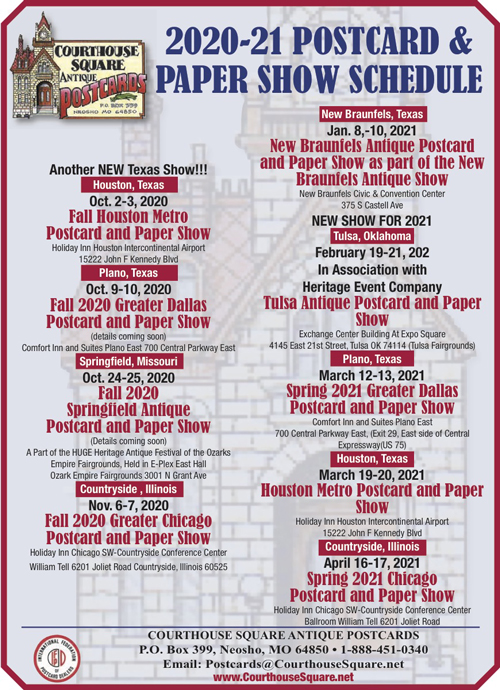 +++
++++++++++++++++++++++++++++++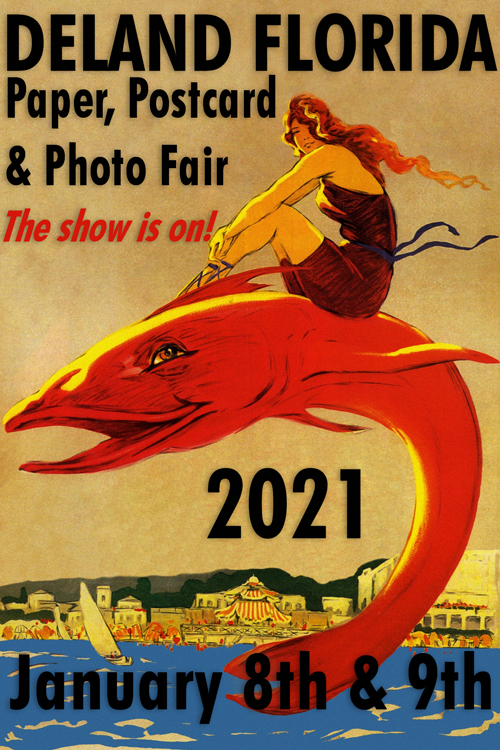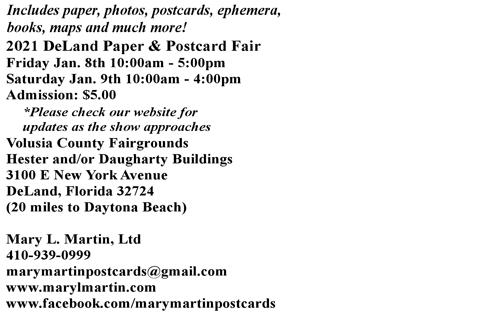 +++++++++++++++++++++++++++++++
++++++++++++++++++
+++++++++++++++++++++++++++++++
+++++++++++++++++++++++++++++++++++++++++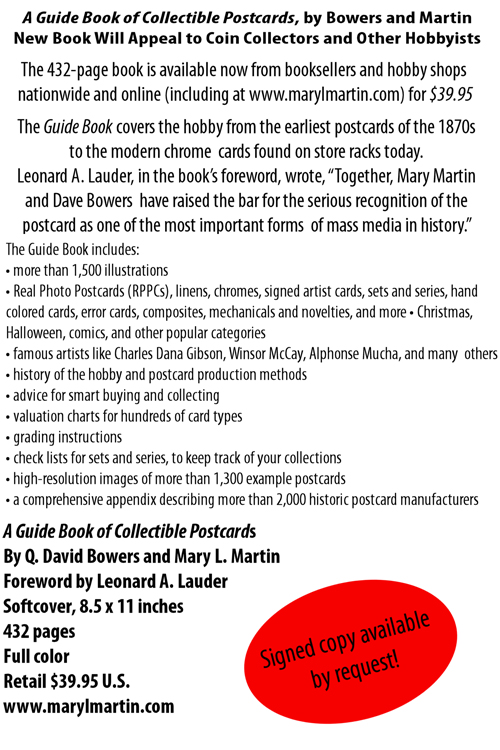 +++++++
+++++++++++++++++++++
(Nov NYC show has been canceled.)
=+++++=

++++++++++++++++

+++++++++++++
+++++++++++++++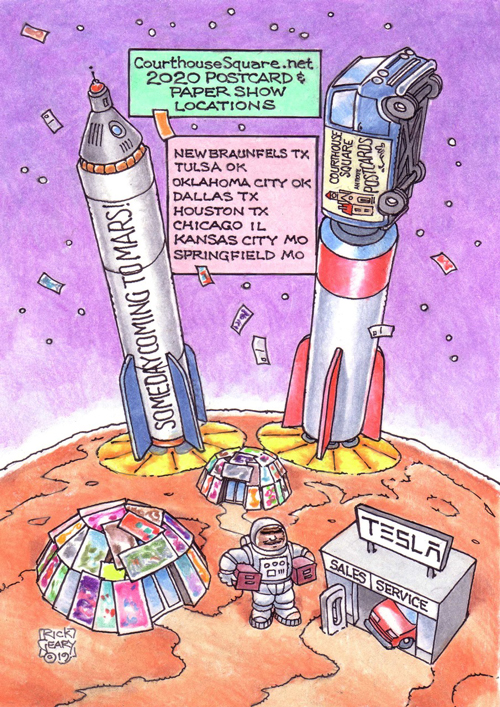 2020 from CourthouseSquare.net and
Jim Taylor
++++++++++++++++++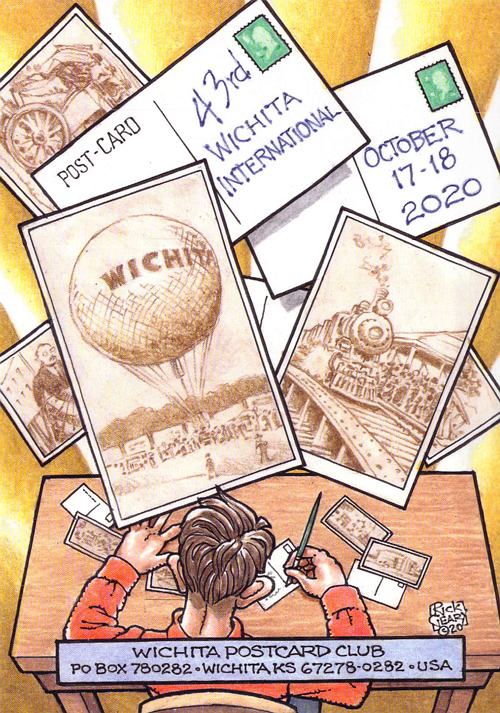 The Wichita Postcard Club officers wish to announce that our October 2020 Postcard Show is postponed. Instead, it will be held on October 16 and 17, 2021. This year's show theme "Real Photo Postcards & Messages - Capturing History" will roll over to be next year's show theme, and Ken Wilson of Dripping Springs, Texas, has agreed to be our speaker on October 17, 2021. We will be set to have lots of fun and look forward to seeing everyone this next year.

In the meantime, we encourage everyone to continue to be safe, wear a mask when you go out, and avoid the closeness of crowds.

This decision has been made with the utmost concern for the safety of our members. We thank you for your understanding.
+++++++++++++++++++++++++++++++++++
NOTE:
Super 8 Wichita- East Kellogg is still hosting those dealers and collectors that wish to spend any or all of the "Wichita Week" hotel pre-show at the hotel, for the annual 'room hop' shopping. Common sense guidlines for whatever the national health scene is in October will be recommended. For additional info and some of the dealers known to be coming to the hotel during some part of the week of Oct 11-18, 2020, contact your dealer, or email CourthouseSquare for additional information.
Jim Taylor
Current Government mandated health guidlines will be followed.
+++++++++++++++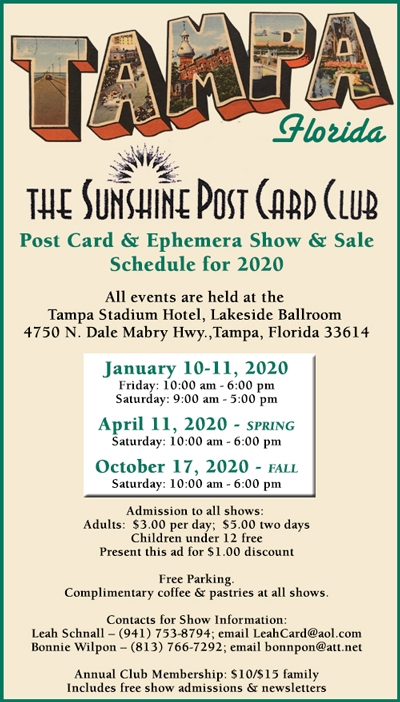 ++++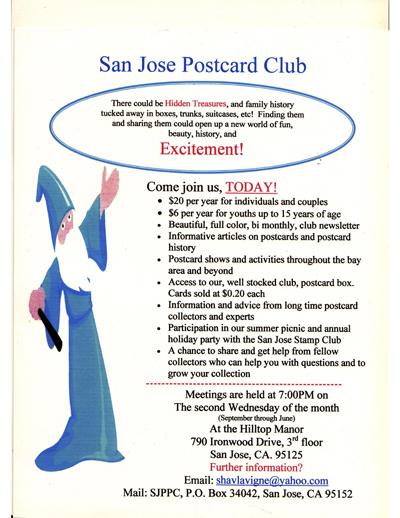 ++++++
+++++
+++++++++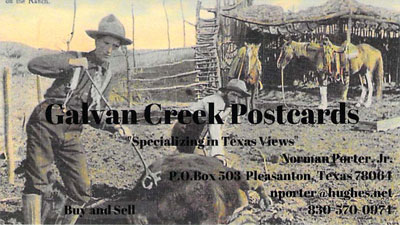 Norm Porter, Jr
++++++++
_______________
When in Houston area, visit Spring Antique Mall
Tracy Bradford co-host of
NEW FALL 2020 Houston Metro Postcard and Paper Show
SHERATON HOTEL NORTH HOUSTON, Fri-Sat, Oct 2,3, 2020
Tracy has 1000's of Postcards and Paper Items in the Mall
See Below!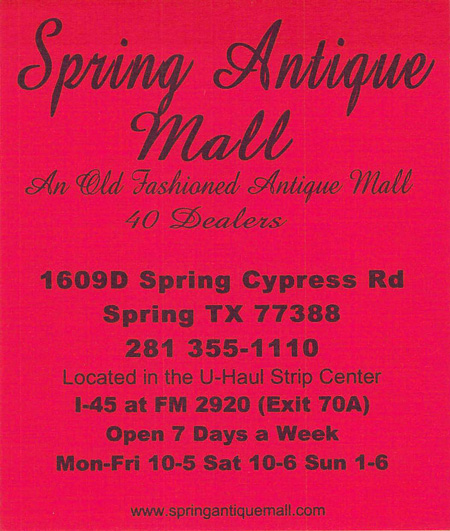 ++++++++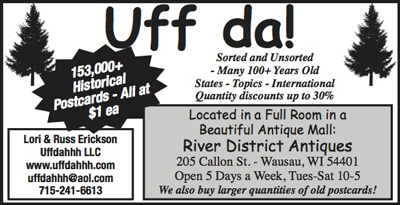 =+++++++++=
+++++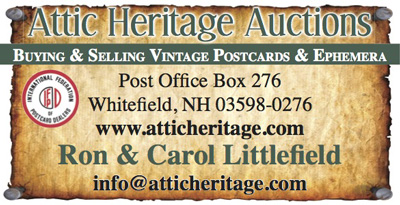 ATTIC HERITAGE AUCTIONS
Ron & Carol Littlefield
P. O. Box 276
Whitefield, NH 03598-0276
www.atticheritage.com
+++++++++
+++++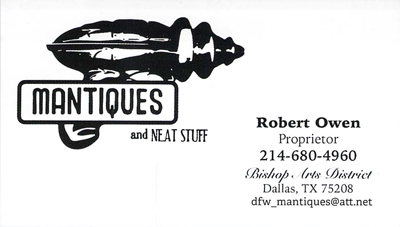 When in Dallas, visit Mantiques and Neat Stuff
New Location: 301 W 8th St (Bishop, Arts District)
Dallas Metro's #1 Source for Great Antiques
and over 10,000 Vintage Postcards and Old Photos
+++++++++++
++++++++++++++++++++++++++++++++++++++++++++
Postcard News from Courthouse Square