Postcard News from Courthouse Square
Vol. 17, No.1, Jan 2021
Click Here to return to Postcard News Index Page..previous and current issues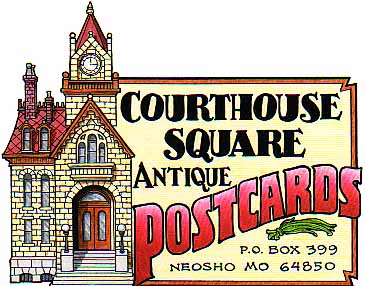 Postcard News From Courthouse Square
Get Out to a Postcard Show....It will do you good!
Click Here to return to Postcard News Index Page, links to previous and current issues
This issue has information on upcoming postcard shows. We hope you find this issue informative
and adding to your interest in postcards and postcard collecting.
Let us know if you have ideas for upcoming articles or contributors.
Your feedback is welcome. Our subscriber membership is over 16,800 and an ad or article can get wide circulation.
Finally, the end of the 16th Year of Our Newsletter,and beginning the 17th Year
Postcard News from Courthouse Square!!
_____
Load Those Postcards in the Car, Come on out to a Show!

It will do you good! It will do everyone good!
***********************
CHECK WITH THE PROMOTER TO MAKE SURE THE SHOW IS BEING HELD
See DETAILS of 2021 Show Schedules Below!!
+++++++++++++++++++++++
2021 Schedules
In light of the national health crisis and the closing of many events, canceled as well as postponed, any schedule you may find on line or in print is subject to possible revisions. Since we only advertise our events (that we produce), and those promoters that contact us directly with their information, we cannot mark a show"canceled " without contact from the promoter. Jim Mehrer's website schedule (which we highly recommend) also requires that the promoter that ran the listing, has to contact him to cancel that listing. Unfortunately there are commercial websites that have no contact with the actual promoters that simply 'pirate' the information from legitimate sites, and post it online for various purposes, so be advised that in those instances of using the commercial 'pirate' sites, you may be at risk of completely wrong or incomplete (or at the least, not the 'latest', current version, show information or changes), as the affected show promoter has no idea the commercial 'pirate' site is using his show info, therefore can't know where or how to update it. In any case, the best policy is to CHECK WITH THE PROMOTER TO MAKE SURE THE SHOW HAS NOT BEEN CANCELED. We only run our schedule here on our CourthouseSquare.net website, in Barr's Postcard News, on Jim Mehrers Postal History website. Any other location you find info on my shows is at the least unauthorized, and possibly false information, and is known to contain incorrect contact info. We stand by our listings, not responsible for others who steal it for their own purposes.
If you are a promoter with shows in this calendar, and need to update, email us immediately.
++++++++++++++++++++++++++++++++++++++
LET'S ROLL!!!!!
Jim Taylor 1-417-389-1512 or postcards@courthousesquare.net
+++++++++++++++++++++++++++++++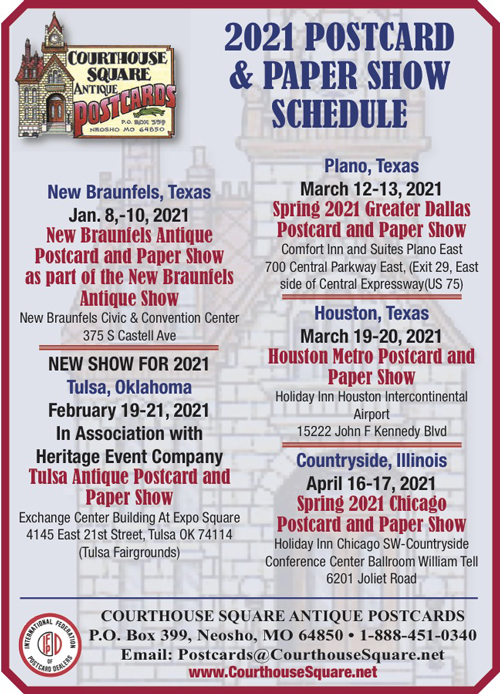 +++++++++
++++++
###########################################
++++++++++++++++++++++++++++++
DeLand Paper and Postcard Fair
HAS BEEN CANCELED
For more information please call us at 410-939-0999 or email us at marymartinpostcards@gmail.com
Planned Rescheduled Apr 30, May 1,2021 Details soon!
+++++++++++++++++++++++++++++++
++++++++++++++++++
+++++++++++++++++++++++++++++++
HAS BEEN CANCELED

HAS BEEN CANCELED
+++++

+++++++++++

+++++
+++++++++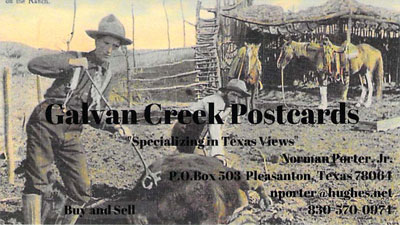 Norm Porter, Jr
++++++++
_______________
When in Houston area, visit Spring Antique Mall
Tracy Bradford co-host of
Spring 2021 Houston Metro Postcard and Paper Show
SHERATON HOTEL NORTH HOUSTON, Fri-Sat, March 19,20, 2021
Tracy has 1000's of Postcards and Paper Items in the Mall
See Below!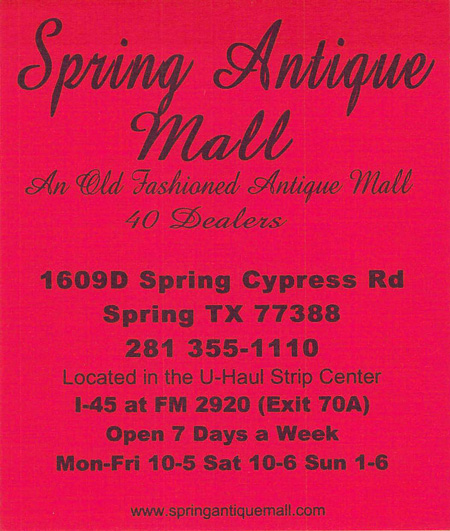 ++++++++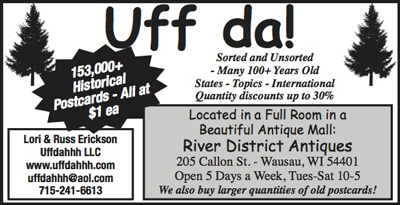 =+++++++++=
+++++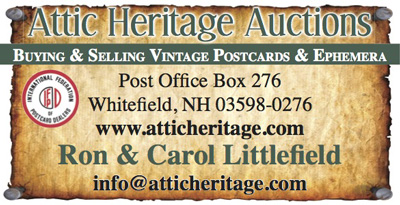 ATTIC HERITAGE AUCTIONS
Ron & Carol Littlefield
P. O. Box 276
Whitefield, NH 03598-0276
www.atticheritage.com
+++++++++
+++++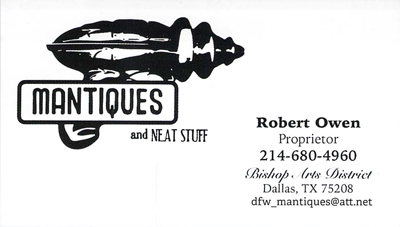 When in Dallas, visit Mantiques and Neat Stuff
New Location: 301 W 8th St (Bishop, Arts District)
Dallas Metro's #1 Source for Great Antiques
and over 10,000 Vintage Postcards and Old Photos
+++++++++++
++++++++++++++++++++++++++++++++++++++++++++
Postcard News from Courthouse Square