Postcard News from Courthouse Square
Vol. 19, No 2, Feb, 2023
Click Here to return to Postcard News Index Page..previous and current issues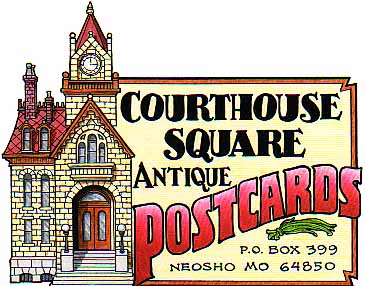 Postcard News From Courthouse Square
Get Out to a Postcard Show....It will do you good!
Click Here to return to Postcard News Index Page, links to previous and current issues
This issue has information on upcoming postcard shows. We hope you find this issue informative and adding to your interest in postcards and postcard collecting. Let us know if you have ideas for upcoming articles or contributors. Your feedback is welcome. Our subscriber membership is over 16,800 and an ad or article can get wide circulation.
We are beginning our 19th Year producing and hosting
Postcard News from Courthouse Square!!
__
Load Those Postcards in the Car, Come on out to a Show!

It will do you good! It will do everyone good!
***********************
CHECK WITH THE PROMOTER TO MAKE SURE THE SHOW IS BEING HELD
See DETAILS of 2023 Show Schedules Below!!
+++++++++++++++++++++++
CHECK WITH THE PROMOTER TO MAKE SURE THE SHOW HAS NOT BEEN CANCELED or otherwise modified. We do not "harvest" calendar dates of show at random off the internet, as some internet pirate sites do. We only run other show schedules sent to us directly from the promoter. We only run OUR schedule here on our CourthouseSquare.net website, in Barr's Postcard News, on Jim Mehrers Postal History website. Any other location you find info on my shows(and many other shows as well) is at the very least unauthorized, and promoter is unaware of unauthorized ad, information possibly false or out of date information, and many have been known to contain incorrect contact and other info. We stand by our listings, not responsible for others who steal it for their own purposes(SEO) and personal gain.
If you are a promoter with shows in this calendar, and need to update any part of your listing, email us immediately.
++++++++++++++++++++++++++++++++++++++
+++++++++++++++++++++++++++++++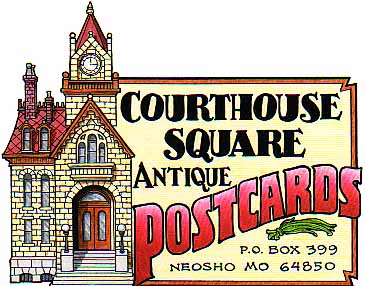 ++++++++++++++++++++++++++
Happy Birthday to our Good Friend Hal Ottaway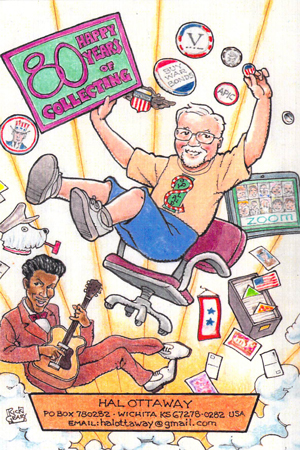 +++++++++++++++++++++++++++++++++++++++++++
This Newsletter is
Presented by: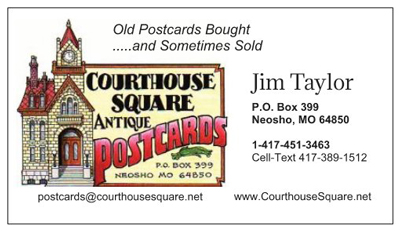 ++++++++++++++++
Court House Square Postcard Shows are supported by dealers from a variety of backgrounds and experiences. Michael Lee Lanning served more than twenty years in the United States Army where he fought in the Vietnam War as an infantry platoon leader, reconnaissance platoon leader, and an infantry company commander. In addition to having earned the Combat Infantryman's Badge and Bronze Star with "V" device with two oak leaf clusters, he is Ranger-qualified and a senior parachutist.
Lanning turned to writing after his retirement. He is the author of 30 nonfiction books on military history, sports, and health published by major New York houses as well as regional and university presses. More than 1.1million copies of his books are in print in fifteen countries, and editions have been translated into twelve languages. He has appeared on major television networks and the History Channel as an expert on the individual soldier on both sides of the Vietnam War.
The New York Times Book Review declared Lanning's Vietnam 1969-1970: A Company Commander's Journal to be "…one of the most honest and horrifying accounts of a combat soldier's life to come out of the Vietnam War." The London Sunday Times devoted an entire page to review his The Military 100: A Ranking of the Most Influential Military Leaders of All Time. According to the San Francisco Journal, Lanning's Inside the VC and NVA is, "A well-researched, groundbreaking work that fills a huge gap in the historiography of the Vietnam War."
Lanning's most recent book is Patton in Mexico described as:
Had Lieutenant George S. Patton not served on the southern border during the Mexican Expedition of 1916, there might never have been a General George S. Patton who took the world by storm as a bold and daring commander during World War II. Relying on Patton's detailed personal journals of his eight months in Mexico, Michael Lee Lanning describes the young officer's exploits during the hunt for Pancho Villa. As an aide to General John Pershing, Patton learned leadership and logistics from the man who would soon command American forces in World War I. Begging for a field command, he received it—and led the first motorized attack in U.S. military history and may or may not have killed two of Villa's lieutenants. The press ate it up, and Patton learned not only how much he loved attention, but how to promote himself.In Mexico are the roots of Patton the World War II general, and Lanning tells the story deftly, focusing on Patton the man as well Patton the commander, and always casting an eye forward to Patton's future career. This is how Patton became Patton.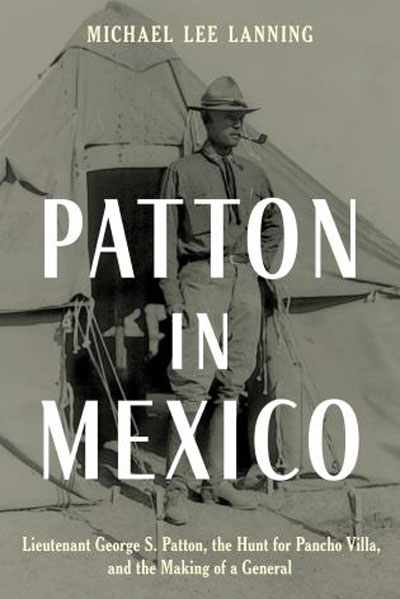 Lanning will be set up at the Tulsa, Dallas, and Houston shows and will have Patton and several of his other books available. Also, feel free to bring in your own copies of his books for signing.
His books include:
The Only War We Had: A Platoon Leader's Journal of Vietnam
Vietnam 1969-1970: A Company Commander's Journal
Inside the LRRPs: Rangers in Vietnam
Inside Force Recon: Recon Marines in Vietnam (with Ray W. Stubbe)
The Battles of Peace
Inside the VC and NVA: The Real Story of North Vietnam's Armed Forces (with
Dan Cragg)
Vietnam at the Movies
Senseless Secrets: The Failures of U. S. Military Intelligence From George
Washington to the Present
The Military 100: A Ranking of the Most Influential Military Leaders of All Time
The African-American Soldier: From Crispus Attucks to Colin Powell
Inside the Crosshairs: Snipers in Vietnam
Defenders of Liberty: African-Americans in the Revolutionary War
Blood Warriors: American Military Elites
The Battle 100: The Stories Behind History's Most Influential Battles
Mercenaries: Soldiers of Fortune, From Ancient Greece to Today's Private Military
Companies
The Civil War 100: The Stories Behind the Most Influential Battles, People, and Events
in the War Between the States.
The Revolutionary War 100: The Stories Behind the Most Influential Battles, People, and
Events of the American Revolution
Double T Double Cross: The Firing of Coach Mike Leach
At War With Cancer (with Linda Moore-Lanning)
Tours of Duty: Vietnam War Stories
Tony Buzbee: Defining Moments
Texas Aggies in Vietnam: War Stories
The VA Cemeteries of Texas
Dear Allyanna: An Old Soldier's Last Letter to His Granddaughter
The Court Martial of Jackie Robinson
The Blister Club: The Extraordinary Story of the Downed American Airmen Who Escaped to
Safety in World War II
Hispanic Medal of Honor Recipients: American Heroes
Jewish Medal of Honor Recipients: American Heroes
+++++++++++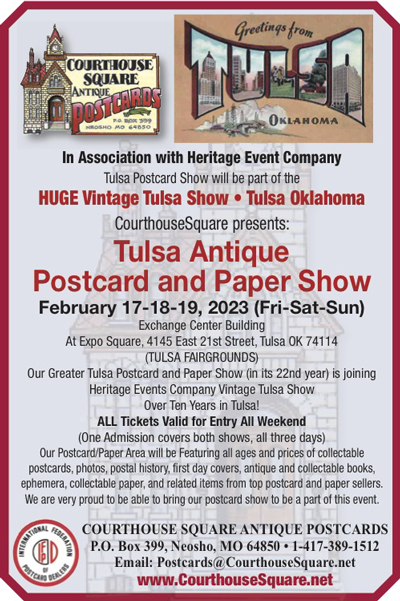 +++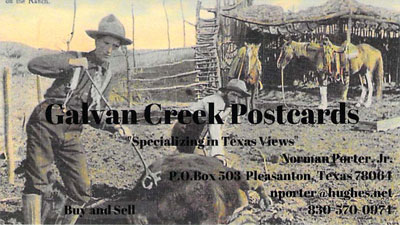 Norm Porter, Jr
++++++++
_______________
When in Houston area, visit Spring Antique Mall
Spring 2023 Houston Metro Postcard and Paper Show
Holiday Inn - Houston Intercontinental Airport, Fri-Sat, Mar 17-18, 2023
++++++++++
Tracy has 1000's of Postcards and Paper Items in the Mall
See Below!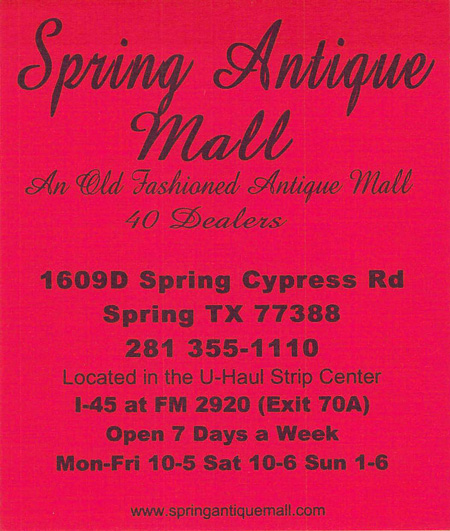 +++++++++

+++++++++++++++++++++++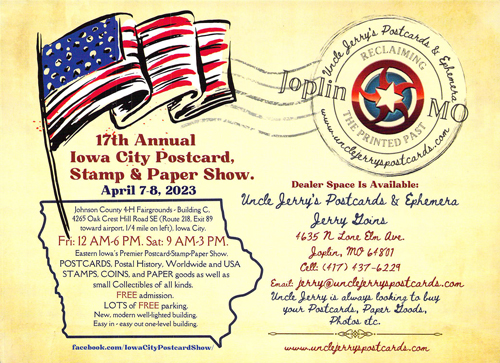 +++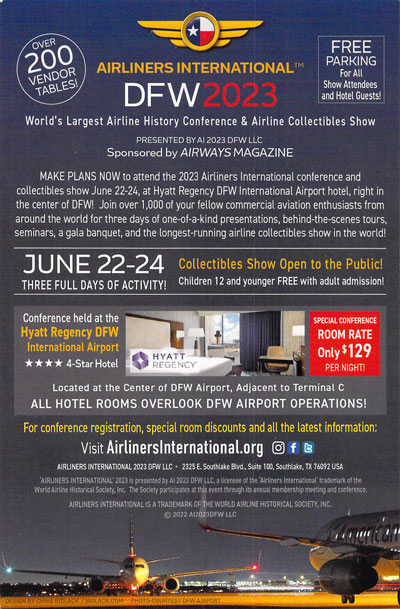 ++++++
Mary L. Martin Ltd. Rare & Unusual Postcard Auctions
Live Monthly Auctions
Live or Absentee Bids Accepted
Email us: marymartinpostcards@gmail.com
Our Site: https://live.marylmartinauctions.com
https://live.marylmartinauctions.com
Phone: 410-939-0999
Mary L. Martin Ltd
410-939-0999
P.O. Box 787
Perryville MD 21903
++++++++++++++++
Rocky Mountain Antique Festival
July 8-9, 2023 (Sat-Sun)
8th Annual
Rocky Mountain Antique Festival
((Lots of Vintage Postcards,
Photos, and Paper))
5280 Arena Cir
Sat 9a to 5p
Sun 10a to 4p
Heritageeventco@gmail.com
Gail Kinney, HEC
Heritageeventcompany.com
Loveland, CO,
Heritage Event Co, Gail Kinney
++++++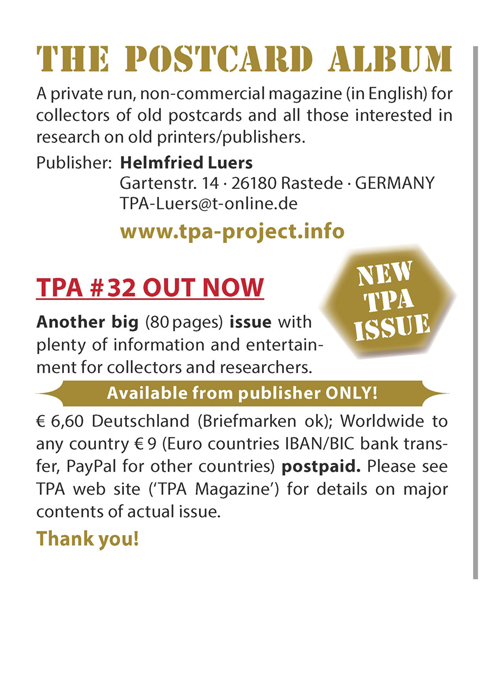 (Tell Helmfried Luers you saw it HERE!)
===================================
""""""""""""""""""""""""""""""""""""""""""

++++++++++

+++++++++
+++++++++++++++++++++++++
+++++++++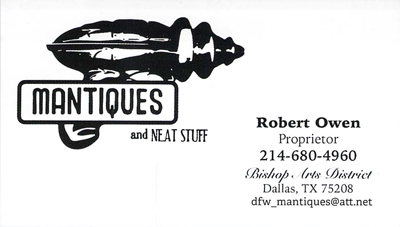 When in Dallas, visit Mantiques and Neat Stuff
New Location: 301 W 8th St (Bishop, Arts District)
Dallas Metro's #1 Source for Great Antiques
and over 10,000 Vintage Postcards and Old Photos
+++++++++++++++++++++++++++++++++++++++++
Postcard News from Courthouse Square