Courthouse Square Antique Postcards
Reference Literature

---
NEW! Sign Up Now for our Free Newsletter
Postcard News From Courthouse Square
Click here.
OR Send a blank email to: join-Postcards@list.courthousesquare.net.
---
---
by Frank Wood and Scott Daymond is in stock now
Beautiful Real Photo views of Kansas from 1900 to 1930. Illustrated with over 300 historical large images of Real Photos of small communities around the state.
Hard Bound, 8 1/2 x 11 format. 1st Edition. Published in 1988. We have the remainders of this great book, they are new, never read, and with a beautiful dust jacket.
Use Paypal, Order Now from CourthouseSquare.net
$25.00, plus $8 USPS Priority, Insured shipping.
---
---
Colorado History: Insights and Views Through Postcards
by Charles Harbert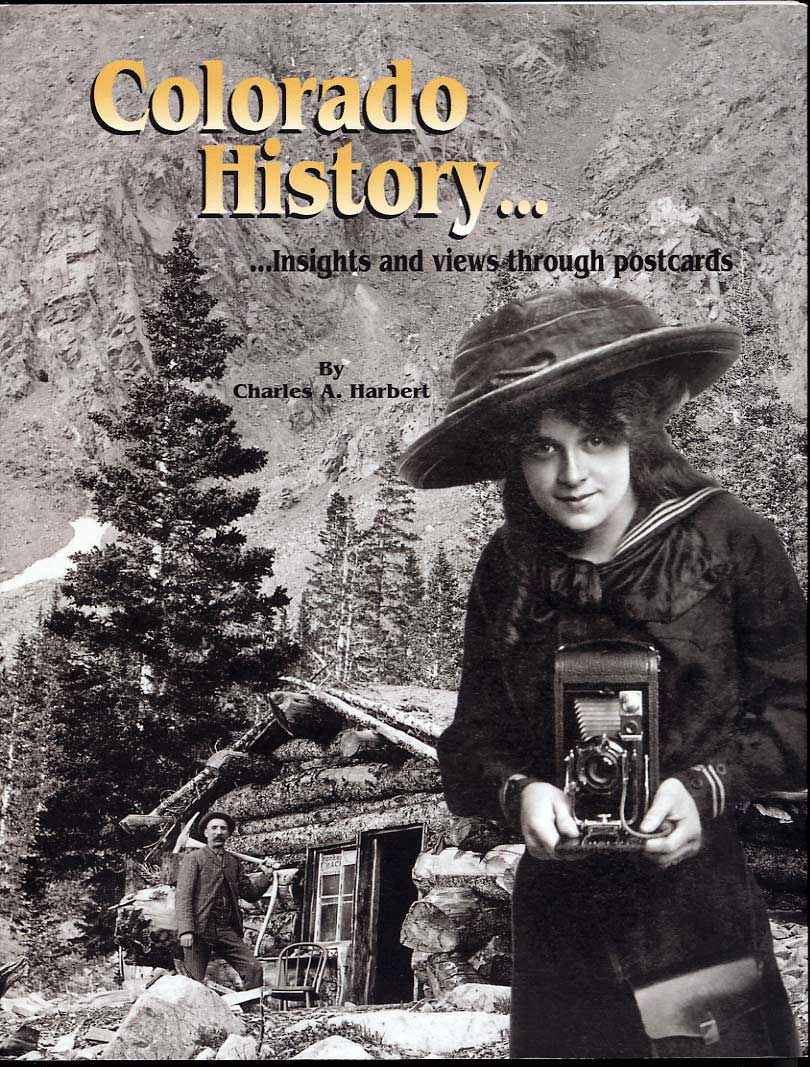 This is the first Colorado postcard book in many years and the most comprehensive in terms of the scope of images and its historical content. The new 315-page book contains 275 high-quality color and black and white images of towns and people throughout the state. Written with historical themes, it includes chapters on Mining, Agriculture, Small Towns, Denver, Tourism, Fun Times, Hard Times, Postcard Photographers, and portfolios on Occupations and People of Colorado. It also includes helpful appendices on the history and dating of postcards as well as the nuts and bolts of postcard collecting. The book contains many outstanding images of street scenes, store fronts, interiors, railroad depots, mining, horse drawn wagons, baseball, brewery, Indians, etc. This is a highly desirable book for any collector of postcards. It is available in both soft cover and leather-bound, limited-edition hardback copies.
Charles (Chuck) Harbert, a member of the Wichita and Denver Post Card Clubs, began his working life as an organic chemist at Pfizer. He is one of the inventors of Zoloft, the world' leading antidepressant drug. Since retiring in 1999, Dr. Harbert has devoted more time to the study of postcards and history.
Order Now!! Soft $50.00, plus $8 shipping.
Click Here Return to top of page
---
---
THE ALL NEW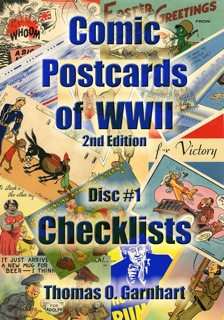 WWII Comic Postcards, 2nd edition, by Thomas O. Garnhart,
Available on 2 DVD's. This new version is produced in digital format, to view on your computer using Adobe Reader (a free on-line download), or print for your own personal use.
• List includes comic and other artist drawn postcards related to WWII
• View on any computer with a DVD reader.
• Permission to print one copy for personal use included with purchase
• 5,600 plus postcards are listed
• Over 2,000 new listings added since 1st edition
• WWII comic arcade cards now included
• Separate list of nearly 300 WWII Large Letter cards
• Over 3,300 full color illustrations of postcards
• Cards by unidentified publishers grouped together with alphabetical names and fully illustrated on Disc #2
Disc #1 Includes these WWII Comic related items:
• Comic Postcard Checklist in both PDF & Excel formats
• Arcade Checklist in both PDF & Excel formats
• Large Letter WWII Checklist in both PDF & Excel formats
• Index of Comic Postcards by Inscriptions that appear on the cards
• List of known artists and the publishers for whom they drew
• List of known publishers with notes.

Disc #2 Includes 14 PDF Documents with full color illustrations as follows:
• Asheville and Eastern
• Colourpicture
• Curteich
• Graycraft & Kropp
• MWM & Metropolitan
• Tichnor
• Minor Publishers A – B
• Minor Publishers C – D
• Minor Publishers E – G
• Minor Publishers H – L
• Minor Publishers M – P
• Minor Publishers Q – T
• Minor Publishers U – Z
• Unidentified Publishers

Disc #1, and Disc #2, ordered and paid for at same time, shipped together for a special introductory price of
$40.00 plus $5 USPS Priority Shipping.

REVIEW BY Hal Ottaway, Wichita KS:
Hal Ottaway, after reviewing the new and improved edition says:…."Without a doubt, this is the "Google(c)" of WWII postcards! The Index by Inscription is so convenient to use and then be able to sort by publisher and file that way too, and enjoy knowing where your postcards are in these large categories of collecting. Fabulous also to have actual pictures of so many of the postcards listed. This new edition is expanded and is probably going to be just like the first edition, the single reference book that I use most often, every day."

Both Disc #1, and Disc #2 for $40. They are available from the CourthouseSquare.net website, from Jim Taylor at shows, and through the mail from
CourthouseSquare.net
PO Box 399
Neosho MO 64850
postcards@courthousesquare.net
Questions: Call Jim Taylor, 1.888.451.0340
______________________________________
Click Here Return to top of page
---
---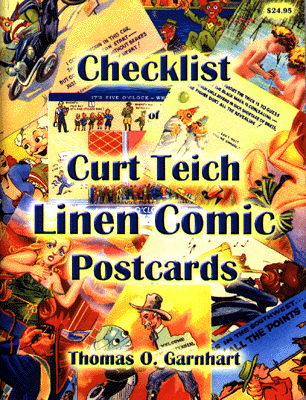 Checklist Curt Teich Linen Comic Postcards
by Thomas O. Garnhart
The Checklist of Curt Teich Linen Comic Postcards is the first definitive and systematic cataloging of linen comic postcards by this quality printer and publisher. Amidst the growing popularity of linens, it is a valuable resource for both collectors and dealers. Some 1548 detailed entries list cards in order of the production. Value ranges are provided to identify the comparative desirability/rarity of each postcard. Detailed information is given about each entry, including inscriptions, series names, and indicators of which are WWII related and which are black racial stereotypes.
Thomas O. Garnhart is a well known postcard collector and dealer residing in suburban Milwaukee, WI. He has collected for nearly 40 years and has been buying and selling as Garnhart Reaper Works since his retirement from United Methodist ministry in 2002
Checklist Curt Teich Linen Comic Postcards, digital on DVD, pdf files- $24.95 + $8 USPS Priority p/h
Order Now!!
Click Here Return to top of page
---
---
---
---
The Before and After Trade Card Book
and Price Guide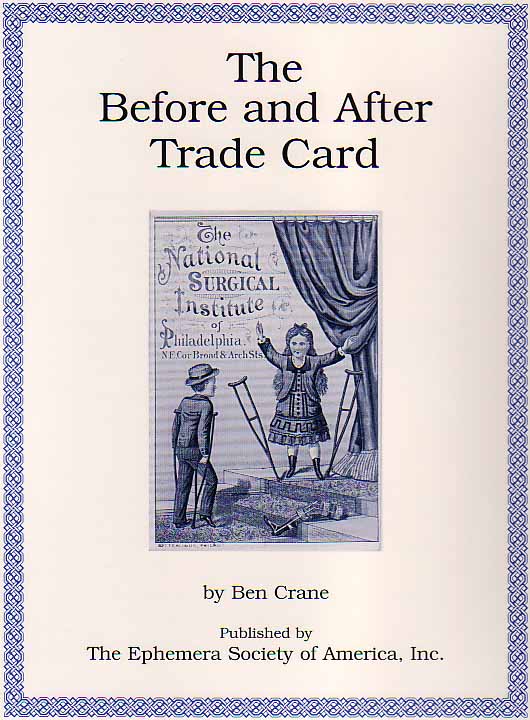 THE BEFORE AND AFTER TRADE CARD
A 136-page, 8-1/2 x 11, softcover book written by Ben Crane, A total of 232 trade cards in 14 different categories are shown in high-quality black and white images at 70 percent of full size or larger. Each of these cards has a before and after theme, exemplifying the benefits of using the advertised product. Over 80 metamorphic trade cards are shown, both opened and closed, as well as several mechanical and hold-to-light cards.
Lots of illustrations and descriptions, includes price guide,
Special Price - $15.00 plus $8 USPS Priority s/h plus p/h
Dealer SPECIAL! Lot of 5, Before and After Trade Card Books, w/price guide only $50 plus shipping
Dealer Lot (5 ea @ $10 ) Special Price - $50.00 plus $10 p/h
---
---
Click
Here
Return to top of page
Click Here to Return to CourthouseSquare.net Home Page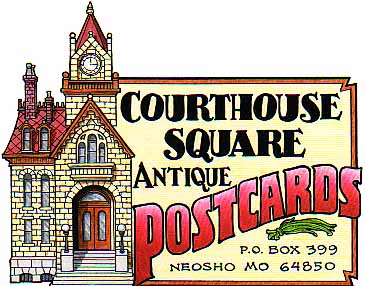 Courthouse Square Antique Postcards
Jim Taylor
P.O. BOX 399 -NEOSHO, MO - 64850
417.451.3463 - 888.451.0340
postcards@courthousesquare.net
We produce postcard and paper shows, sell postcards, reference materials and archival supplies.
Member

CourthouseSquare.net
NEW! Sign Up Now for our Free Online Newsletter
Postcard News From Courthouse Square
Click here.
OR Send a blank email to: join-Postcards@list.courthousesquare.net.
---
Browse our Current Online Auctions

Postcards@CourthouseSquare.net
©2000-2012, JMT Enterprises. REPRODUCTION OF THE CONTENTS OF THIS PAGE, IN PART OR WHOLE, IS EXPRESSLY PROHIBITED.
This site was created and launched by Jim Taylor. For information email me at jmtaylor@ipa.net